Making the decision to showcase your work with an art exhibition event can be daunting, but if you're ready to share your talent with a broader audience then it's a fantastic thing to. Whether you're hoping to be seen by collectors, picked up by curators or discovered by potential buyers there are so many benefits to hosting an art exhibition event.
But where to begin? Organising your own artwork for an exhibition is rarely as straightforward as you'd expect and can be a tricky venture to manage. Luckily, the team at Noho have seen their fair share of art exhibitions within the venues, giving them a wealth of experience and insight into exactly what it takes.
Both Noho Studios and Noho Showrooms are ideal venues for art exhibitions in London. So now if you're wondering how to tell if a venue is right choice for your exhibition, keep reading – we've broken it down for you below…
Stay Focused: Minimise distractions by using a blank canvas venue
After putting so much time, care and effort into organising an exhibition event, you'll want visitors to pay attention to your artworks. It can be tempting to pick an opulent venue as a way of trying to impress your guests but more often than not it creates a distraction instead. There may be exhibitions where art is amplified through being a lavish setting but for most it will only serve to divert attention instead. The surroundings of your art can hugely affect the way visitors view it too so it's important to make sure they aren't influenced or given the wrong impression.
The use of a blank canvas venue helps to ensure that art can be perceived and enjoyed the way it was intended. Both Noho venues offer a slick, contemporary setting and being so clean and white means there is nothing to detract from the real focus of the event – your work! A blank canvas space is always our go-to suggestion for any art exhibition, no matter what type of art someone is looking to display. Each of our venues are already kitted out with high-end gallery lighting too which means your work can be displayed for guests at the greatest standard possible. There's no such thing as a one-size-fits-all-venue – but we come pretty close.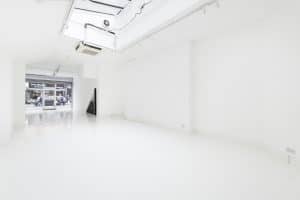 Location: Go to where your audience is
Choosing an art exhibition venue in the right location can end up playing a huge role in its success. Whether the exhibition is public or private, you should make it as easy as possible for your audience to come. The simplest way to do this is by taking your art to where your audience already is!
You probably already know who your ideal guests are; seasoned creatives, affluent aficionados, trend-setting curators… So where better to find them than in the West End? The combined glamour of Mayfair, upmarket nature of Fitzrovia and chic of Soho makes the West End ideal for enticing the right kind of audience to your event.
Sitting right at the heart of the West End are our Noho galleries. They're perfectly placed as art exhibition venues and while they're surrounded by plenty of potential visitors already, those further afield can still attend your event with ease. Transport links to the venues are bountiful with Noho Studios and Noho Showrooms each being just a 2- and 3-minute walk from Oxford Circus. You'll be pushed to find a better suited West End events venue for your art exhibition!
Flexibility: from still life to sculptures
Trying to work out how big your venue should be is not quite as simple as it sounds. If your display is all on canvas, you'll want to consider wall space before floor space. Are the ceilings high enough? Does the venue have capacity for the number of guests you expect? Will the shape and layout of the space fit around your work? Besides capacity, this information often isn't available on a venue's website so research can quickly become time-consuming and complicated.
When it comes to art exhibition venues, versatility is key. Both Noho galleries are fantastically flexible, suitable for almost any kind of exhibition event. Noho Studios can host up to 130 guests with nearly 2,800 sq ft of floor space, while Noho Showrooms has room for 80 visitors over 1700 sq ft of floor space. They also both offer high ceilings, lots of natural daylight and a customisable shopfront window; culminating to create two of the most versatile art exhibition event spaces in the West End.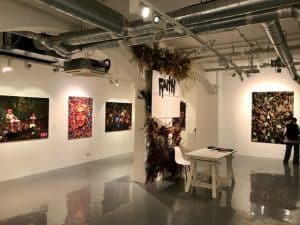 One of our favourite exhibitions happened earlier in 2019. 'FAITH' (above) was a photography exhibition by Haris Nukem and curated by Penelope Sonder. Focusing on what ideology currently guides millennial and Gen Z culture, his portraiture explored social media connectivity, the limitations and liberations of the curated self and the fragility of public services. The display was open to the public and put up in Noho Studios. The blank canvas event space provided the perfect backdrop for his work to take centre stage while offering plenty of room for visitors to consider, reflect and enjoy it.
Experience: Utilise a venue's knowledge & expertise for your art exhibition
The team behind each of Noho's venues have truly been there and done that when it comes to art exhibitions but not all venues have experience with art events. So, while Noho has dealt with most things we'd always want to recommend asking your choice of venue how often they host this kind of event!
If it's experience in art exhibitions you're looking for then either of Noho's gallery spaces are a brilliant choice. Not only can you rely on them to ensure sure your exhibition goes off without a hitch but you can expect them to offer suggestions for things you hadn't even thought of yourself! There's nothing that beats old fashioned knowledge and expertise for organising an unmissable event.
Get in touch with the Noho team and prepare to start a project together! If you're interested in putting on an art exhibition in London's creative heart, make sure you get in contact at info@nohostudios.co.uk or call on 020 7637 5657.