Back in July, Noho Showrooms hosted a product launch for British bath and beauty brand, Soap & Glory. Organised by the team at Flavourology and renowned for delivering mind blowing multisensory dining experiences, they put on an extraordinary two-part, edible experience for guests to celebrate the expansion of the brand's Call of Fruity range.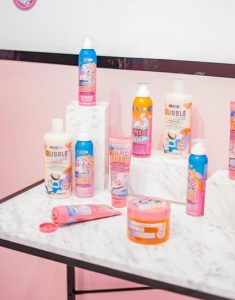 An exclusive selection of influencers and journalists were invited to the product launch for the additions of Cooling All Girls™ Crackling Moisture Mousse and Smart Foam™ Shower Mousse.
From the beginning, it was clear Noho Showrooms was the perfect venue for the occasion, as the event spanned the entire venue, making use of both the bright, naturally-daylit ground floor and the spacious lower ground floor. Noho Showroom's convenient storefront entrance was customised with Soap & Glory's unmistakable branding so the venue was easy to find for guests.
As they arrived, guests found themselves in a stylish, retro-look bathroom where they were welcomed with a cocktail of prosecco and hibiscus lemonade. The drinks reception décor included bubble-like balloon sculptures as well as several Soap & Glory product displays, helping to get everyone in the mood.
Guests were given the chance to mingle before the product launch event kicked off with the appearance of their host, Glorya. After welcoming them to her bathroom, Glorya disappeared behind a shower curtain and a pre-recorded video played, debuting Soap & Glory's new products, while she sang an original song to accompany it.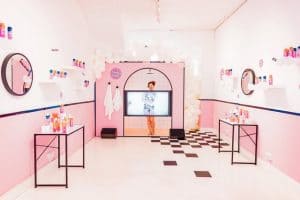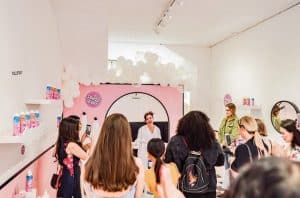 After her performance, the product launch event entered its second phase as guests were ushered into a faux shower after her. To their surprise, they found a secret doorway leading to a new space: The Call of Fruity Tiki Bar.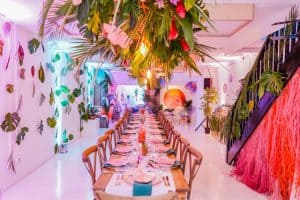 Following the hidden entrance through to the tropical lower ground floor, the guests were invited to take a seat around a long wooden table to enjoy a 5-course, tiki-inspired dining experience. Surrounded by rainforest foliage, the diners were also treated to music and songs from the vocal harmonies Tiki Girls throughout the meal.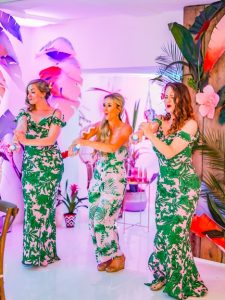 Noho Showrooms has space to allow catering to be prepared in-house, so dining experiences can be delivered without the need to compromise. Further, being a blank canvas venue also means it's conveniently laid out for food and drink service. On this occasion, Flavourology prepared everything in a back-of-house area where they then effortlessly served it up to their eager dinner guests.
The incredibly innovative menu for Soap & Glory's product launch event included:
Amuse bouche – Watermelon & Citrus Edible Fragrance, compressed watermelon, macerated cherry tomatoes, frozen honeyed yoghurt 'snow', crispy Thai basil leaves & cucumber ketchup.
Starter – A trio of tacos filled with BBQ jackfruit, pickled pink onions, micro coriander, sriracha mayo & jalapeno.
Salad – Ahi tuna poke w/ miso, pomelo, ginger, sesame, green papaya salad & micro coriander.
Main -Hawaiian roast pork belly with pineapple carpaccio, red chilli & tamarind glaze, aromatic rice, ginger floss & pickled watermelon radish.
Dessert -Pineapple posset, sweet Thai basil parfait, pineapple crisps, bounty shards (dark chocolate & coconut), pineapple soused in coconut liqueur, toasted coconut flakes, mango & passion fruit infusion. This was paired with a "Soap & Glory Sour" cocktail made up of white rum, egg white, lemon juice, Grenadine simple syrup & cherry garnish.
The product launch event and dinner experience went down a treat for guests – literally and figuratively! And it's always good to see guests enjoy themselves, as well as knowing that the organisers were pleased with how it went.
If you're looking for a product launch venue in the West End or a blank canvas space to hold the perfect event at, Noho Venues has two stunning spaces suitable for a range of events including pop-ups, meetings & conferences, drinks receptions, art exhibitions and more.
For more event inspiration, we'd recommend heading over to our blog for a read of our 6 Tips for a Successful Launch Party and check out a few of our creative product launch event ideas too.