Product launches are a fantastic way to debut a new product. More and more brands are catching onto this right now however, so it's becoming harder to make your launch event stand out and, crucially, get remembered. Product launches work so well because they tick so many boxes of what makes a successful and effective marketing strategy. It's a chance to get influencers involved with your product, have your valued or potential customers experience it and get key press talking about it. 
Here at Noho Venues we love hosting product launches because our venues allow so much space for creativity. We've hosted some pretty exciting launch events, but here are some of our favourite and most creative product launch event ideas: 
Don't Underestimate Instagramability
It's not a given that your brand's target audience are all Instagram users. But most of them probably are! More than that, many probably look to the platform for guidance on purchases, inspiration from influencers and follow hashtags about the things they love. If you're a shoe brand, your audience probably follows other shoe brands, as well as fashion influencers and shoe-themed hashtags. If your brand can get into those feeds (a.k.a. streams of content your audience has chosen to seek out deliberately), it's a really valuable place to be. 
Next question is, how do you get in their feed?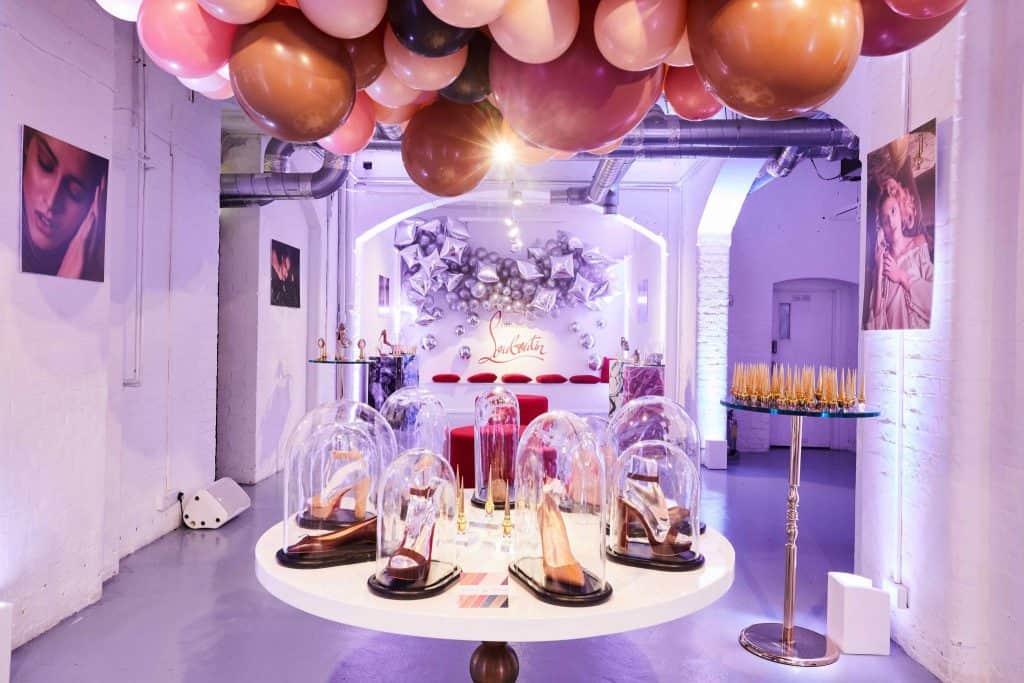 Answer: with a supremely instagramable product launch event! Even if it's not as obvious as picking a caterer or the deciding on the perfect venue, aesthetics and event design cannot be overlooked. The better looking a launch is, the more likely your guests are to share it. Once they share it, you're in those valuable, focused feeds. An example of this was Schuh's Tokyo Nights launch at Noho Showrooms, where the space was dramatically turned into a scene from a neon clad back street in Tokyo, through cleaver design and production, 3D projection mapping and projection  making the event uber sharable with guests tagging and hashtagging – all on the brands behalf!  
Do Something Unexpected
A sure-fire way to catch your guest's attention is to offer them something they're not expecting. There are so many ways to do this and the brilliant part is it's never limited by the type of product being launched. A software company might choose to serve canapes on keyboards, a whisky distillery might want to use furniture made with their bottles or a cosmetics brand could decide to create giant replicas of their make-up as display pieces. To use a cliché; the only limit really is your imagination!  
For inspiration, it can be as simple as taking something conventional or familiar about the type of product and putting an unusual twist on it.  
Agent Provocateur gave a great example of this, launching their latest line of lingerie at Noho Showrooms. There's nothing odd about using mannequins for a fashion display but in this case, they went a bit further than standing them in the front window. Placing them in somewhat unconventional and intriguing poses around a 50s diner set worked a charm, convincing guests to get sharing and start conversations about the event in no time. Not a product launch that we or the guests could forget in a hurry!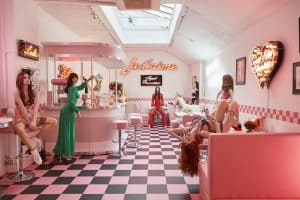 Play To Your Brand's Strengths
Agent Provocateur's launch worked well because it lined up so closely with their brand messaging. The biggest risk with doing the unexpected at your event is taking things too far. You can lose the message you're trying to get across about your brand in translation, hugely dampening how effective your product launch is. The idea of playing to your brands strengths might sound like it can only apply to companies who already have an established following, but that doesn't have to be the case. There is still huge value in doing this for brand-new start-ups too.  
If a launch event is for an already-existing brand, one smart strategy is to leverage that reputation as a way of helping 'verify' the product for potential customers. This saves a lot of work trying to build a rapport with them from scratch too. Putting things guests should associate your brand with in front of them at a launch event can help transfer that set of values they already hold about it straight over onto the new product.  
For new companies, this can be considered differently. This product launch will be your brands first exposure to the public and so it's a key opportunity to establish what your brand will stand for directly at your target audience. So whatever you do at your product launch, make sure it properly reflects what you want your brand messaging to be about! 
A good example of doing this was the product launch for Christian Louboutin Beaute held at Noho Studios. Famously known for their shoes, it was a great idea to leverage that reputation by including their iconic shoes in glass cases as part of the display. This worked to subtly help transfer the values held by the guests about Christian Louboutin onto their new range of make-up too.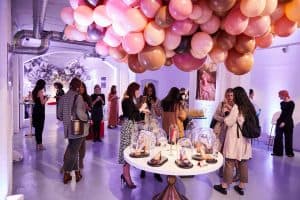 So, hopefully we've demonstrated for you just how creative it's possible to be at launch events. If your struggling for venue inspiration then Noho Venues offers two stunning blank canvas spaces right in the heart of London's West End. Need more convincing? You can click here for more examples of product launches held at Noho Venues.