We're all familiar with what meetings are and what they're for. They're a necessary part of most of our jobs and many of you have probably planned a few yourselves. However, meetings risk becoming routine – talking about the same things in the same space with the same people. They can end up leaving you and your colleagues bored, uninterested and making anything discussed totally forgettable.
This is the last thing you want, especially at your most important meetings. So, what can you do to host one that stands out in your colleague's minds long after it's over? Taking those major meetings out of the office is a good start, but if it's only to another meetings facility you're still likely to end up with uninspired colleagues stuck for the day in an uninspired space.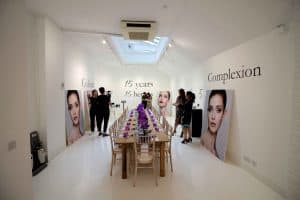 You need something your colleagues can get excited about and leave a lasting impression, ensuring they don't forget they day's discussions in a hurry. This is why a blank canvas space is a perfect solution to make your next big meeting one to remember.
Let us convince you further…
A blank canvas space = total brand-ability
A blank canvas venue offers endless opportunities for branding. Putting your stamp on the space ensures your colleagues stay focused on exactly what they're there for. You've taken them out of the office for a day to get excited about, don't let them forget why!
Adding lots of branding to your space can actually boost the morale of your staff too. Seeing the logo blown up and featured on walls, printed on stationary or even plastered over the front of your venue helps to create a sense of pride. Having an entire space dedicated to your brand and business turns a normal meeting into a stand-out occasion.
This meeting held at Noho Studios by Houseof saw our venue transformed from blank canvas space to a totally, on-brand meeting space the team could be proud of, showcasing a number of the companies contemporary and stylish lighting pieces.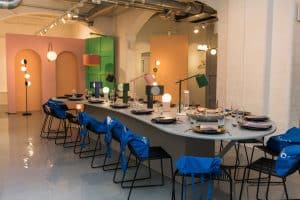 Great opportunity to give it some personality
A blank canvas space is as versatile as they come, so take full advantage of that. Venues like Noho Studios and Noho Showrooms can be easily styled into a bespoke set-up to fit the needs of your meeting perfectly.
The ideal design is one that's conducive for helping colleagues deliver on the goals of the day, keeping discussions constructive and energy levels high. Strike a balance by creating an environment that keeps everyone focused on the day's aims but also ensures the excitement and passion stays up. Breaks, treats and surprises are the best thing to maintain good moods – arrange them to be spread though out the day and you'll be amazed what they can do for motivation and engagement.
Another trick for managing moods is a bit of clever lighting. Different colours and levels of light can be used to create atmospheres to reflect you want your colleagues to feel throughout the meeting. It's not totally straight forward however; bright lights risk making a space feel a little harsh to be in while lights that are too low can quickly sap energy from staff. Luckily, there's a solution for you in the next point….
You can 'Pick & Mix' your AV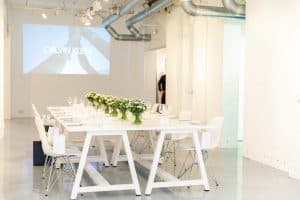 Whether you want to keep it simple (like Calvin Klein did for their meeting here) or want to go all out, a blank canvas space for meetings can accommodate your needs whatever they are.
The beauty of a blank canvas venue is that you only hire in as much or as little AV and equipment as you'll need.
To make things as easy as possible Noho Studios comes with a projector and speakers + up to x30 coloured uplighters that are available for hire. L'Oreal took full advantage of our tech and lighting capabilities at Noho Studios, as can be seen here using our projector and purple lighting to help create a relaxed, yet focused atmosphere for their meeting.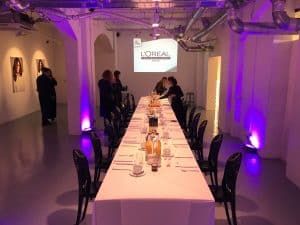 We hope this has offered some useful inspiration and tips for planning your own bespoke meeting. Noho Venues offers two blank canvas spaces for meetings, conferences or nearly any other event type. Check out more about Noho Showrooms and Noho Studios, or to get in touch with your event needs then drop us an email on info@nohostudios.co.uk or call on +44 207 637 5657.