Set in the heart of the West End, Noho Studios and Noho Showrooms offer two of London's most centrally located art gallery spaces available for hire direct to artists, curators and gallerists.
With white walls, museum grade gallery lighting and high ceilings throughout, the galleries provide the perfect back drop to put artwork centre stage.
To offer some inspiration for anyone planning their own exhibition we'd like to share some of the top exhibitions we've hosted recently…
Haris Nukem's FAITH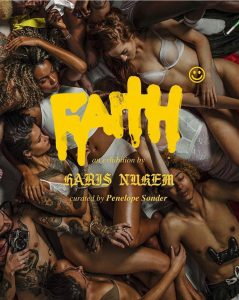 Harris Nukem is considered one of the most exciting photographers to emerge in recent years, with his exhibition at Noho Studios proving to be no exception. Nukem is best-known for his unique perspective and provocative examinations.
His FAITH exhibition debuted a collection of captivating photographs portraying the ideologies that guide millennial and Gen Z culture today; exploring social media connectivity, liberations and limitations of curating yourself and the fragility of public services. It also draws attention to concerns surrounding online trolls, tribalism and hedonism.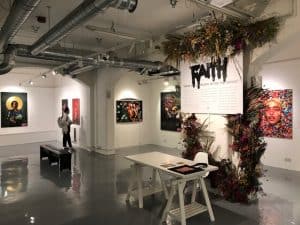 The collection's curator Penelope Sonder said, "FAITH is [Nukum's] strongest exhibition to date, with photography of daring compositions and gritty yet extreme colour palettes presenting a new take on society."
The exhibition was open to the public who enjoyed Nukum's work distraction-free against the blank canvas backdrop at Noho Studios. His original portraiture took centre-stage while our art gallery venue provided plenty of room for visitors to admire and reflect on the collection.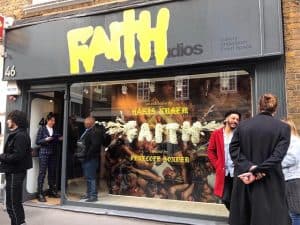 Arctic Monkeys – AM:ZM
As a way to celebrate the Arctic Monkey's upcoming shows in London and Sheffield, photographer Zachery Michael curated an exhibition showcasing a selection of previously unseen photographs of the band. The series was taken during the making of their album Tranquillity Base Hotel & Casino and while they were on tour after its release.
The exhibition ran for a week in each city, coinciding with the highly-anticipated performances in both. Alongside his photography, several pieces of band ephemerae were displayed including unseen album sleeve artwork of the Tranquillity Base Hotel & Casino model, originally created by Alex Turner.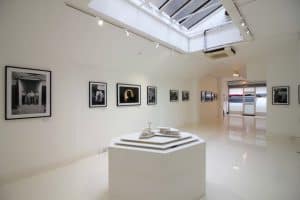 There was also a select number of tour posters as well as a short, behind-the-scenes film, offering a more in-depth look at the making of their album and tour. Limited numbers of exclusive band merchandise were available to visitors who wanted a souvenir from the exhibition home, and notably, all profits from the sale of Michael's framed prints at the exhibition were donated to the charity Centrepoint UK.
The week-long exhibition at our art gallery venue was well received by fans who got to take a more intimate look into the lives and work of their favourite band.
Radu Oreian
After his first solo exhibition in Marseille in 2017, Radu Oreian hosted his second European show with us in London. Taking over Noho Studios for 7 days over Frieze Art Fair October 2019, he debuted his latest work under the title: Microscripts and Melted Matters.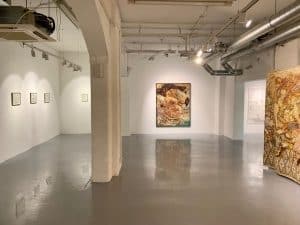 This collection is a series of works on paper and paintings that follow on from his previous work, focused on the myths and stories that shape our understanding of humanity and society. Alongside this, Oreian created a number of highly-detailed drawn miniatures, containing a range of mythologies, anatomical forms and geometric pattens.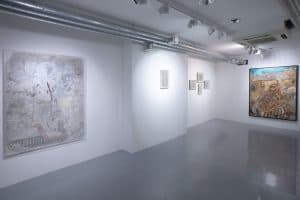 The variety, intelligence and attention to detail of his work makes his art highly coveted by followers and fans so this art exhibition was highly anticipated. Noho Studios was the perfect fit for displaying Oreian's art as high ceilings and large continuous walls meant there was plenty of space to fit even his largest work, The Last Agora.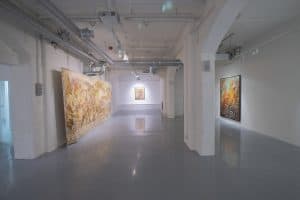 Serge Pizzorno / Daft-apeth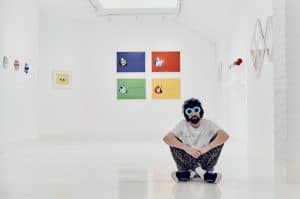 This original art exhibition from Leicesterian, Serge Pizzorno, combined an absurd sense of humour with childhood memories, iconography and random thoughts. I Wish You'd Touch Me As Much As You Touch Your Phone was Pizzorno's second solo show, presenting a collection of a range of sculptures, canvasses, light boxes, prints and vivid enamels.
His work is heavily influenced by his professional background in the psychedelic rock scene where he most notably worked with Kasabian and takes inspiration from his roots as an Italian growing up in Leicester in the 80s.Pieces include fragments of
random overheard quotes, television and arcade machine references and comics, and show off a playful yet cunning sense of humour.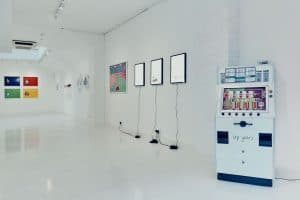 Pizzorno's exhibition at Noho Showrooms displayed nostalgia for classical British iconography through a broad range of media, and used East Midlander colloquialisms to acquaint his audience and winks to a period with a shared social and political solidity.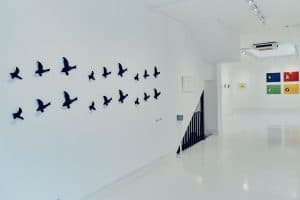 Noho Venues offers two art galleries for hire, ideal for showcasing your latest work, putting on a public art exhibition or hosting a private debut event. Check out more about Noho Showrooms and Noho Studios, or get in touch with our event team and drop us an email on info@nohostudios.co.uk or call on +44 207 637 5657.