It's been a major year for us here at Noho Venues. We've hosted everything from London's first 24-hour beauty salon to a highly-anticipated Pokémon pop-up, a range of independent art exhibitions to lots of widely-covered press events. As we were looking back on how much has happened in 2019, we wanted to pick out and share a few of our favourite product launch events.
New Balance
We were lucky enough to be the product launch venue of choice for the official release of size? x New Balance's new 990v5 trainer, with their pre-release showcase being themed around – wait for it – 1980's British corner shops.
size? x New Balance 990v5 Product Launch Event at Noho Venues
The shoe itself took its colour inspiration from the products and signage you'd see constantly during the 80's. Royal blue suede, yellow mesh and pink perforated nubuck all pay homage to the vibrant colouring which lined the shelves of corner shops across Britain. So, it was only fitting for our blank canvas space to be turned into a setting to match.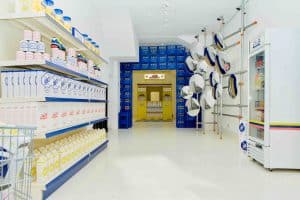 Put together by The Drop Date, our venue was expertly transformed into a (highly-aesthetic) corner shop-themed environment, even including uniformed staff to man the tills and mop the floors. Foam bananas and authentic British sausage rolls were on offer to be snacked on by attendees while they perused the aisles. These displays were stacked with a combination of New Balance 990v5-branded cans, boxes, cartons, and the soon-to-be-released trainer itself.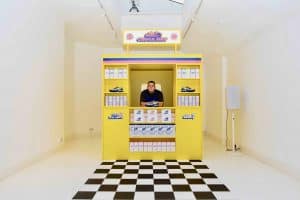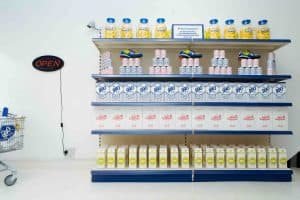 Downstairs, the team had created a timeline displaying each version of the 990 sneaker leading up to the new exclusive. It was cleverly designed to not only give attendees an idea of where the shoe had come from, but where it could be heading in the future too.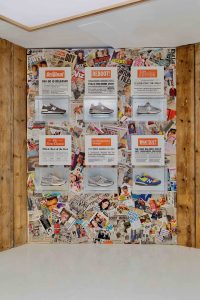 Dyson
Taking us from the 80's to firmly into the 21st century, Dyson spent a week at our product launch venue hosting a press event to debut some of their latest creations. All of the products were displayed on a space-age inspire backdrop and aimed at improving wellbeing.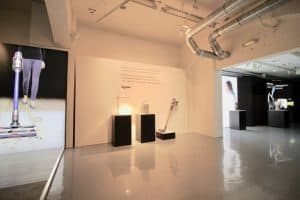 In our main room, their latest vacuum took centre stage. A multi-room set-up was used to demonstrate how it intelligently detects different surface types and adjusts the performance and power to suit.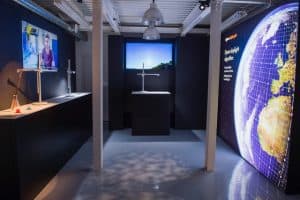 Our bunker room was transformed into a lab to showcase the new Dyson Lightcycle. The light is cleverly designed to help improve the mood and health of people by syncing up with local daylight and adjusting how much light it gives off, depending on how warm or cool it is.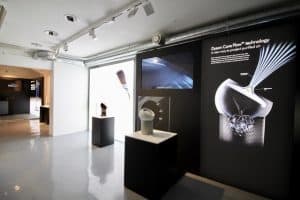 We loved the way this section of the venue was set-up to demonstrate their latest innovations in purifying fans, with the Dyson Pure Cool Me able to capture over 99.95% of particle pollutants. A mix of high and low lighting combined with fully back-lit wall displays made this product launch event seriously striking and highly memorable.
Remy Martin
To celebrate the creation of their new limited-edition cognac bottle, Remy Martin held their European launch event here with us.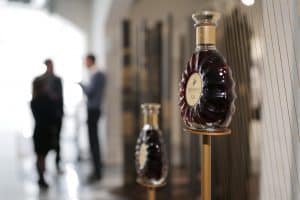 Their new bottle was designed by the Paris-based atelier Steaven Richard, who focuses much of his metalwork around patterns in the natural world. The unique motif he created for Remy Martin's XO decanter was formed using a new way of embossing brass that Richard's invented in the process called anamorphosis.
Our blank canvas space was transformed into a sleek, Remy-branded bar area, including a glossy black, backlit counter and a classy, display of the limited-edition bottle.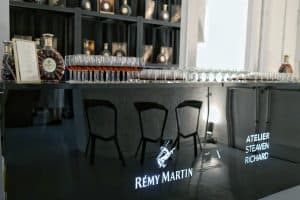 Elsewhere in the venue, glass, portrait-style display cases were mounted to the wall, each containing a traditional metalworking tool. The artistic feature was a way of acknowledging and celebrating the origins of the bottle's design.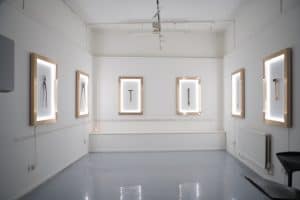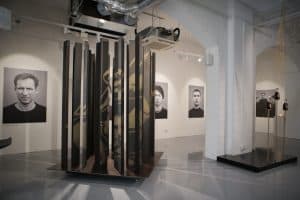 The Remy Martin XO x Steaven Richard decanter gift set was revealed exclusively at the launch event attended by members of La Maison Remy Martin. The lucky guests were the first people to get their hands on the limited-edition bottle.
L'Oreal
L'Oreal-owned Decléor held an exciting product launch event at our venue later on in the year. It was a delight to host the skincare-focused beauty brand and help launch their new Antidote Serum.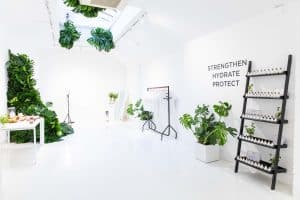 Decleor's range focuses on skincare products that are powered by essential oils. Their patented Antidote Serum was designed to be more-efficiently absorbed than other formulas, making it a hotly anticipated release not just amongst its cult following, but beyond.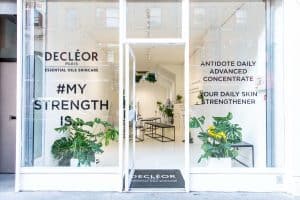 Our blank canvas space was the ideal setting for the product launch as it's bright white walls aligned perfectly with their brand.
The large glass store front with was over-laid modestly with more branding including the event's hashtag, #MyStrengthIs.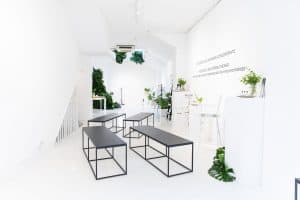 The inside of the venue was decorated minimally with modern black benches, wording on the wall and plenty of foliage as a signifier of where their essential oils come from.
We've had these and plenty more product launch events at Noho this year. If you'd like to read a little more about our spaces you can head to Noho Studios and Noho Showrooms' pages or check out a some more product launch inspiration in our blog on creative product launch ideas.