78% of millennials say that face-to-face interactions make them more inclined to become a part of or involved with a brand. As they're also the most influential demographic, then creating those opportunities should be number one priority for brands. But if you've never planned a pop-up event before, where do you start? In this guide, we've put together exactly how to plan a pop-up event in five key stages.
While events are normally temporary, a pop-up differs because it tends to appear unexpected or 'unplanned'. This spontaneous appearance is a large part of what makes pop up events so popular amongst customers. Their desirability presents a golden opportunity for brands and presents a way to encourage audiences to view them in an exciting new light. So how do you make the most of it?
Here's how to plan a pop-up event in five straightforward steps:
1. Make sure you know what your goals are
First and foremost, you need to ask yourself why you're putting on a pop-up event. Is it to raise brand awareness? To build a buzz ahead of an event or product launch? Capitalise on end of season sales? There's plenty of good reasons for hosting one, you just need to know what yours are!
List the goals you have for your pop-up event and rank them on importance. Clearly outlining your objectives means you can stay focused on what's most important from the get go. Since there's so many considerations in planning any pop up it can be easy to get distracted or taken off-track; keep referring back to your goals during the planning process and make sure any decisions made work towards achieving them.
You'll also want to consider the kinds of goals you want to set. What these are will depend on the format of your event. There may be infinite ways to organise a pop-up but they can be broadly split in two: those looking to make a profit and those looking to raise awareness or engagement. (Of course an event can do both, but one will normally take president over the other.)
If you're hoping for a profitable pop up, it can be particularly challenging the first time around so you'll want to outline your financial projections at the start. While it's rare for these to be accurate on the first try, it'll give you a decent idea of budget and allow you to make better decisions because of it.
On the other hand, if you're looking for brand awareness then the cost of the event is more likely to be accepted as part of a marketing budget or similar. But even if profits aren't the goal, it's still important to know how much of an investment it's going to need, how much visibility and attention you expect to gain and how this can be measured for a tangible ROI.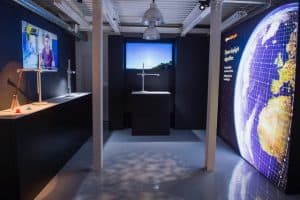 2. Set your budget (and stick to it!)
It's a must to make sure you know exactly how much you have to spend from the off. There's nothing worse than getting half way through planning only to discover you don't have any budget left for elements you haven't even started thinking about yet.
When you're clear on what you've got to work with, think about which parts of your pop-up event are most important. Is the branding? Marketing it to the public? The physical production and set-up? Delegate your budget according to what will have the greatest impact on guests or work the hardest to achieve your event goals.
Like any event, there will be plenty you need to spend on and like any event, one of the biggest single spends will be on your choice of location. When it comes to pop-up venues, the cost of hiring one can vary wildly so it's important to shop around. If you can become familiar with the spaces around and available to you then you'll have more chance at acting on those good pop up opportunities when they come up.
Moreover, unusual events may need an unusual setting and these can cost even more with the special arrangements likely required for hiring it. Our recommendation? Outline all of the elements you think you might need at the start, research average costs and go from there. If you plan for costs you end up not having, you've got extra to play with!
They may not be glamourous, but we recommend keeping track of all your numbers in a spreadsheet so you can ensure nothing is overlooked.
3. Location, location, location
Picking a pop-up venue with the right location is crucial to its success. The choice can make or break your event so it's definitely not something you can afford to overlook.
You'll want your venue to be the right match for the kind of pop up you're putting on, as well as in a great location so your attendees can access it with ease. The more footfall you're able to garner, the greater visibility your brand and event will enjoy. Both of our own Noho Venues (Noho Studios and Noho Showrooms) are very fortunately based on one of the busiest streets in the West End, only a couple of minutes from Oxford Street, with each benefiting from plenty of public transport links too.
As a top tip from us, if you do opt for an unusual location it's very likely to need special licencing and permissions for use. It can be a common rookie error not to only realise this until last minute which can cause a whole heap of trouble. Get it sorted as early on as possible to ensure that you'll definitely be able to use the space. There's no event without your pop-up venue so make it a priority!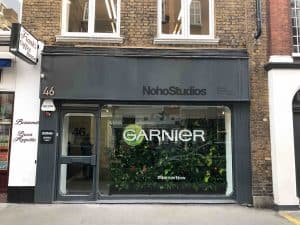 4. It's all in the details
Here's where the creativity can come in. It's never a bad idea to start getting conceptual before you even know your goals or budget, but once you're clear on them and your location is confirmed, you can really start putting the pieces of your pop-up puzzle together.
Exactly what elements you'll need for your pop-up event depends on what kind you're hosting; if it's a dining experience you'll need kitchen equipment, chefs and wait staff; if it's a retail pop-up you'll want cashiers and we'd recommend staff on the doors to control numbers.
Then beyond that, your event design should also be a huge consideration. Guests are far more likely to post about your pop-up event if it looks good on the 'gram. Definitely take the time to research and get some serious event aesthetics inspiration. Pinterest is a brilliant tool for this as there are so many great ideas already and it's so simple to pick your favourites and build vision all in one place.
While it's tempting to want to include everything you find and love, be careful not to overdo it. Often the budget will be the first hinderance before your imagination runs out anyway, so you will need to pick priorities in the decoration department. With this in mind, focus on making your pop-up event inviting, interesting and instagramable.
5. Capitalise on the buzz
Very rarely is the pop-up event itself the goal. It's most likely to be about raising your brand awareness and generating engagement from your guests, so you'll want to do everything you can to make the most of it!
Once your pop-up event has happened and the buzz is generated, ride that wave for as long as possible. Keep promoting the event after by sharing pictures and stories on social media. Jumping on trending hashtags and posting #throwbacks are great ways to keep all that content you got on the day working hard.
As well as making sure you capitalise on all that post-pop-up momentum, having a branded event hashtag is vital. Make it clear to your guests what it is and that they should use, and then once it's over you'll easily be able to find plenty posts from attendees to share yourself too. When it comes to events, people trust what other people have to say about them more than they trust a marketing team, so promote those positive posts far and wide.
There are so few rules when it comes to exactly how to plan a pop-up event which is what makes it such an exciting and engaging event format. However, we hope this blog has offered you a few helpful ideas on how to structure it and some inspiration if you're planning your first.
If you would like to take a look at our own blank canvas pop-up spaces, head on over to Noho Studios and Noho Showroom for all the details. For more reading on events, check out this blog on the benefits of a West End venue or 6 tips for a successful launch party.